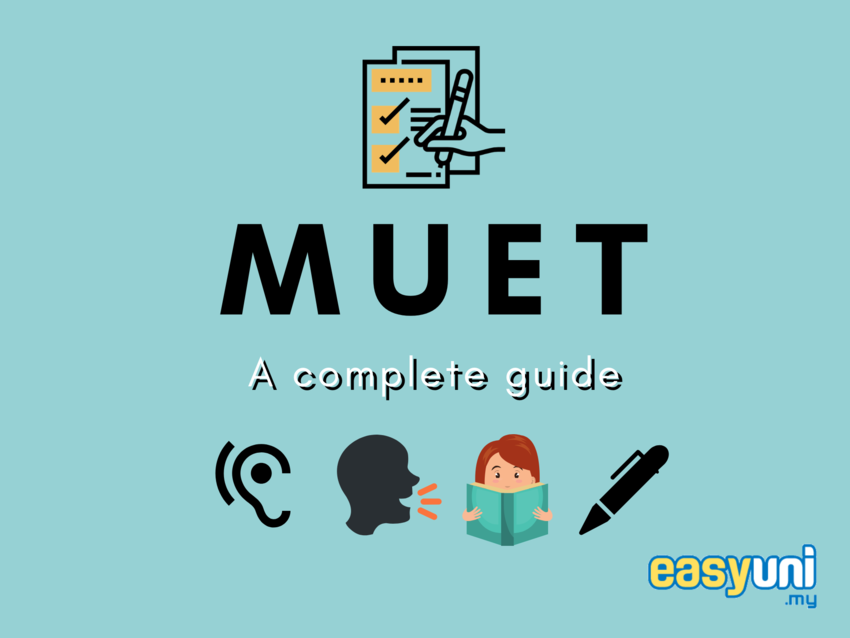 If you're a pre-university student, you would probably have heard of MUET most of the time among your friends and lecturers. This abbreviation is often thrown around when you're planning for your next study pathway at the undergraduate level.
Are you still confused about how MUET works? Is it compulsory for you to take MUET? This study guide will tell you everything you need to know about MUET and how this local English test can help you gain successful entry to your dream local university in Malaysia.
What is MUET?
MUET is an abbreviation or acronym for Malaysian University English Test. It is a language proficiency test that measures English language skills for students who are still enrolled at the pre-university level in Malaysia. It is administered and supervised by the Malaysian Examination Council (MEC).
This test applies for STPM, Matriculation, Foundation and Diploma students who are planning to apply for their first degree programme at a local university. The general requirements given by the university typically include MUET results. Therefore, if the university you're planning to apply to require your MUET certificate, you must present it along with your application.
When you're taking MUET exams, the MUET grades you obtain do not affect your grades for your pre-university programme. It plays an important part to ensure you secure a spot at the universities you applied for.
MUET is accepted by universities in Malaysia and Singapore only. It doesn't qualify for other universities abroad. For oversea university application, you might need to take other English proficiency tests that has international qualification like TOEFL and IELTS.
Also read: MUET vs TOEFL vs IELTS
When is MUET held?
MUET is conducted 3 times per year, which are in March, July and November. You are free to choose which month is suitable for you to take the test. The registration typically opens in mid-January and closes in early February for mid-year exams. While for end-of-year exams, the registration opens in early May and closes in early July.
MUET exam dates for 2020:
28 March 2020
20 June 2020
31 October 2020
How to register for MUET 2020?
There are two ways on you can register for your MUET exam in 2020:
1. Register at your respective institution
For pre-university students, you must register at your respective institution. There will be an announcement informing you once the registration is open.
2. Register through online for private candidates
Private candidates are allowed to register through MPM's official website. You may read the full step-by-step guide here.
Be sure to be alert on the registration deadlines.
How much does it cost?
The total registration fees for MUET only cost RM101. The fees for MUET exam are structured as follows:
| | |
| --- | --- |
| Registration fees | RM40 |
| Subject fee | RM60 |
| MEC PIN number | RM1 |
| Total | RM101 |
Payment must be made by purchasing MEC PIN number at Bank Simpanan Nasional (BSN) counter or internet banking. You will be charged RM1 for every MEC PIN number purchase.
The purchase of the PIN number cannot be refunded if the candidate fails to register before the deadline. The purchased PIN number cannot be used to sign up for the next MUET test session.
MEC PIN can also be purchased through internet banking at Majlis Peperiksaan Malaysia.
Successful payments will be shown on the MUET Registration Statement or Penyata Pendaftaran MUET (MUET/PP) for the candidate's reference.
MUET exam requirements
The test is offered to candidates who have sat in any of the following:
Sijil Pelajaran Malaysia (SPM)
Sijil Pelajaran Malaysia Vokasinal
Malaysia Certificate of Education
Federation of Malaya Certificate of Education
Cambridge School Certificate
Education for 10 years equivalent to O-level
If you have passed other examination other than those listed above, you are allowed to register for MUET, but you must first obtain the permission for Malaysian Examination Council.
MUET exam structure
Like other English proficiency tests, there will be four components for MUET exam, which consists of Listening, Reading, Writing and Speaking.
The test is divided according to the component and candidate will be given a duration of around 4 hours altogether to complete the test.
Here are how you will be tested for each component:
Listening
30 minutes
Divided into three parts with 20 questions
Types of question: Information transfer, short-answer questions, Multiple Choice Question (MCQ)
Reading
1 hour and 30 minutes
45 questions
Type of questions: Multiple Choice Question (MCQ)
The candidate will be given 6 texts or articles that contain 200 - 700 words.
Writing
1 hour and 30 minutes
Divided into two sections, A and B
Section A: Write a summary essay or report based on charts/graphs/table analysis given (150-200 words)
Section B: You will be given the topic or issue to write an essay about (350 words)
Speaking
30 minutes
Two tasks involved
Task 1: Individual presentation. 2 minutes to prepare, 2 minutes to present)
Task 2: Group discussion that consists of four candidates. Every candidate has to come up with points and decide among group members which point is the best. Every group will be allocated 10 minutes to discuss.
How does MUET evaluation work?
Candidates will be assessed from their Listening, Speaking, Reading and Writing skills. Every component has a different maximum score, which leads to a different percentage to total up the overall total score.
Here are how the scores are divided:
| | | |
| --- | --- | --- |
| Component | Maximum score | Overall percentage |
| Listening | 45 marks | 15% |
| Speaking | 45 marks | 15% |
| Reading | 120 marks | 40% |
| Writing | 90 marks | 30% |
| Total | 300 | 100% |
Your average score across the 4 components will decide your MUET Band, from Band 1 as the lowest to Band 6 as the highest. The higher the score you achieved, the higher the band you will get.
If you're wondering what does each band means, you may refer to the table below:
What band do I need to achieve for MUET?
This entirely depends on the university and the programme you are applying to. Some courses might require you to obtain higher bands, while some could be lower.
For example, if you want to pursue courses like Medicine, Law, TESL or English Linguistics/Literature, you are required to achieve Band 4 and above.
This is why it is important for you to set your own goal and always be ready to take this test. If you do not meet the minimum requirement or get a band below, you could be asked to take additional English courses throughout the programme.
Getting your MUET result and how to check
Once you've done and dusted with your MUET test, you have to wait for 10 weeks till you can get the results. The result slip you receive will indicate the marks you managed to score for all four components respectively, then you will be able to see the MUET band you obtained.
You can also check your MUET result online from MEC's website or by SMS:
MUET <space> RESULT <space> I/C Number <space> and send to 15888
Example: MUET RESULT 991110105555
Tips for MUET exam
Want to score the highest MUET band? It will not be difficult if you prepare yourself in advance by doing a lot of practice. Some of you might do well for reading, listening, and writing, but get stuck at speaking. How to improve and be confident in all tests?
Below are some of the tips that you can use:
1. Do a group study
If you are currently taking a diploma, foundation or matriculation programme, you will have other friends who are required to take the test as well. It's a good idea for you to get together and plan your own study group. It can be a small group of 4-6 people. You might find it hard to focus if there are more people in the group.
Set one rule among your friends to only speak in English; this will technically help your language skills. There will always be someone in the group who is fluent in English, that person can be one who helps you and your friends to do well for MUET.
Don't be afraid to make mistakes! That is how you can learn and grow.
2. Set your own target
Everyone has an aim in their life. As for MUET, make sure you have a target for which band you want to achieve. Challenge yourself and be sure to motivate yourself to work hard and hit your target.
If you need help from your lecturers, you can always reach out to them. Find ways on how to improve your language skills before the exam date approaches. There are also online tutorials you can find everywhere on the internet, and you don't have to pay because it's mostly free!
3. Do a lot of exercises
If you go to the bookstores, you can find a lot of exercise books on MUET tests. By doing a lot of practice, you will be able to get yourself accustomed to the format of the tests and at the same time, hone your English language skills.
Besides buying the physical exercise books, you can also find some exercises online and you can download them all for free. It's just one google away.
4. Read MUET guide
The most important part is where you understand the whole structure of MUET test. You don't want to take a test that you know nothing about. Like the guide we're giving you here, you can simply browse it on your phone or laptop, and jot down any important points for your own reference.
---
FAQ
1. How long is the validity period for MUET certificate?
It will only be valid for 5 years from the date of the MUET result comes out.
2. Can I do an appeal for rechecking/remarking of my MUET results?
Yes, you can. You can download the appeal form here. The closing date for the appeal is one week after the results are announced. You will be charged RM70 for this appeal.
3. How do I apply for a change/transfer of test centre?
You are required to fill in the printable form and submit the application to MEC through the respective Jabatan Pelajaran Negeri at least two months before the test date. You will be charged RM25 for this application.
4. Can I change the date for the Speaking test?
Yes, you can, but under the condition that you have to submit an official application to MEC one week before the date of the test. You must include your personal details, queue number, a new date which you would like to take the exam and the reason with proof.
5. Can I postpone my MUET test?
No, you cannot.
6. Can I opt out from taking MUET test?
No, you cannot. If you wish to cancel your application, be reminded that the fees you paid will not be refunded. However, your request can be considered if you're under the following cases:
a) Candidates who are ill and are not able to make it to the test may submit confirmation about their illness to MEC refund.
b) Deceased candidate. Family members or representative can send a copy of death certificate to MEC for refund processes.
7. How I apply for withdrawal?
You may apply for withdrawal by filling in the application form here.