APU Engineering Scientist Meets Nobel Laureate
23 Feb 2023
Ts. Dr. Reena Sri Selvarajan developed biosensors for artificial kidneys and COVID-19 applications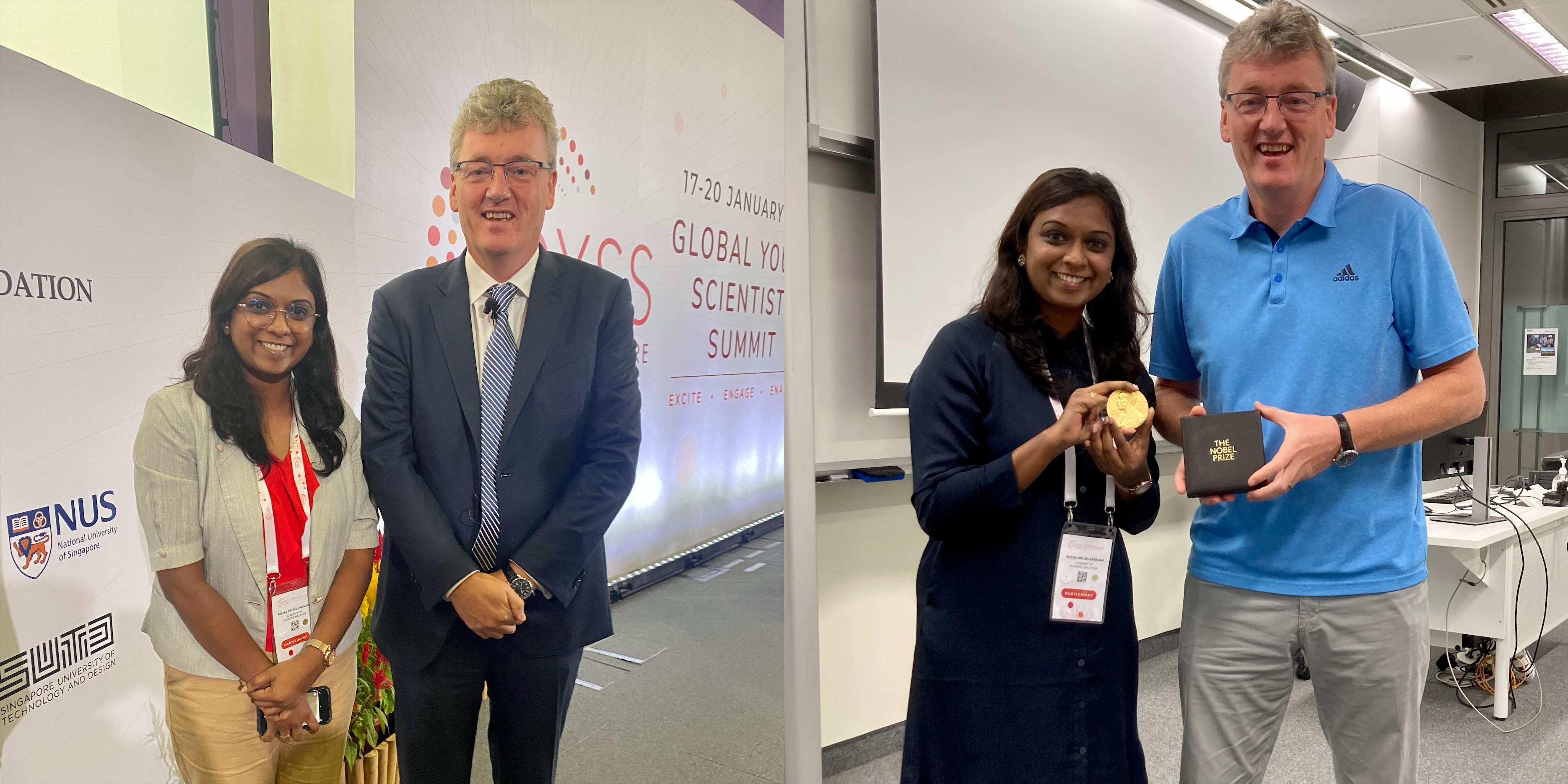 Ts. Dr. Reena Sri Selvarajan (left) met Sir David Macmillan, Nobel Prize laureate in chemistry 2021 at a plenary lecture at GYSS 2023; after a dialogue session, Dr. Reena got a chance to hold the Nobel Prize medal which gave her a surreal moment.
About 20 years ago, Ts. Dr. Reena Sri Selvarajan had to switch from her dream of becoming a medical doctor. However, she has never regretted her decision, as she became a promising engineering scientist who builds medical devices that improve the quality of life for humankind.
Dr. Reena developed biosensors for artificial kidneys while doing her doctorate, for its extension, she used graphene (a two-dimensional form of crystalline carbon) nanomaterial to innovate a prototype of COVID-19 biosensors that could detect Coronavirus in the air.
This idea and prototype eventually won her and her team a Gold Award at the Malaysia Technology Expo (MTE) 2020's COVID-19 International Innovation Award.
Dr. Reena, who now lectures at the School of Engineering, Asia Pacific University of Technology & Innovation (APU), is an expert in microfabrication and nanoelectronics, specializing in biosensors and Micro-Electromechanical Systems (MEMS) Technology.
She earned her Ph.D. with distinction in Microengineering and Nanoelectronics from the National University of Malaysia (UKM). Besides, she is affiliated with the Young Scientists Network of the Academy of Sciences Malaysia (YSN-ASM) and holds a professional technologist certification in the field of nanotechnology.
Despite being a stellar student at school, she didn't secure the desired scholarship to further her education. That gave her the motivation and courage to march fearlessly onward to break every obstacle in her academic endeavour.
"I accepted the engineering course offered by a government university, graduated with first-class honours, and enrolled on a PhD programme," she recalled.
At the beginning of 2023, Dr. Reena was chosen and invited to represent Malaysia for the 11th edition of the Global Young Scientist Summit (GYSS), which took place from 17th Jan to 20th January at the Singapore University of Technology and Design (SUTD), where she experienced an unforgettable moment: holding the Nobel Prize medal together with the Nobel Prize laureate in chemistry 2021, Sir David Macmillan.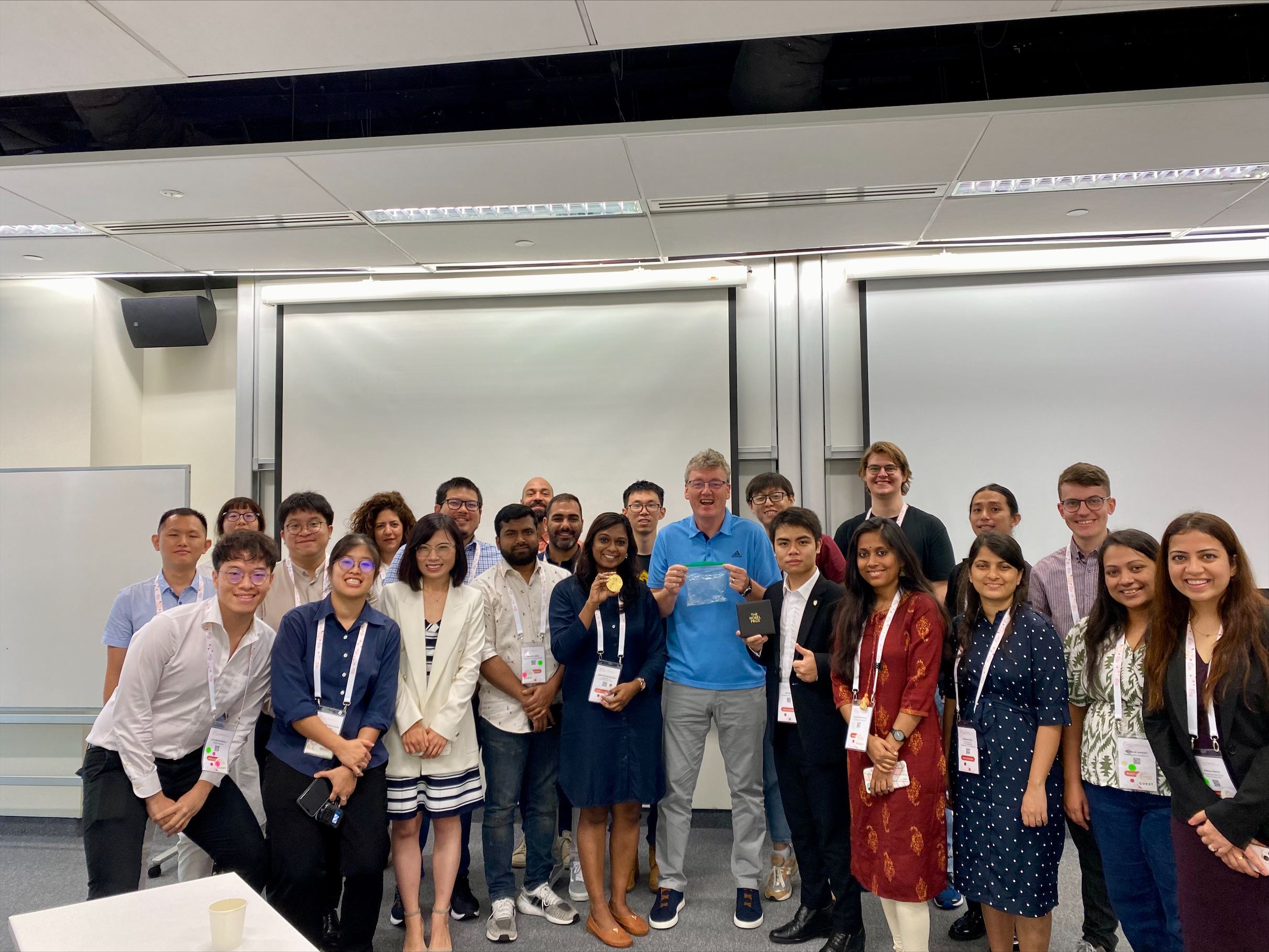 Ts. Dr. Reena Sri Selvarajan (front row, 5th from left) among 20 selected young scientists who participated in the 11th edition of the Global Young Scientist Summit (GYSS), having a light moment with Nobel Prize laureate in chemistry 2021, Sir David Macmillan (centre).
"I was privileged to be one of the 20 selected participants to have a dialogue session with Sir David Macmillan and shared my research experience with him. At the end of the session, he surprised us by revealing the Nobel Prize medal. That was the most surreal moment I will cherish forever!" said Dr. Reena.
Sir David Macmillan's remarks about adversity yielding invention, and tough situations giving rise to fruitful results if one knows how to redirect and channel the energy, unexpectedly resonated with what she had gone through, "he was as if saying – turn your pain into victory."
There were more than 350 young scientists from 29 different countries who attended the summit with an array of 21 plenary lectures and four panel discussions featuring 21 Nobel laureates, among them were Prof Brian Kobilka - Nobel Prize in Chemistry (2012), and Prof John Mather - Nobel Prize in Physics (2006).
Dr. Reena was picked to represent Malaysia based on her excellent performance, strong commitment towards her research field, and of course, her enviable young age among the excellent academicians!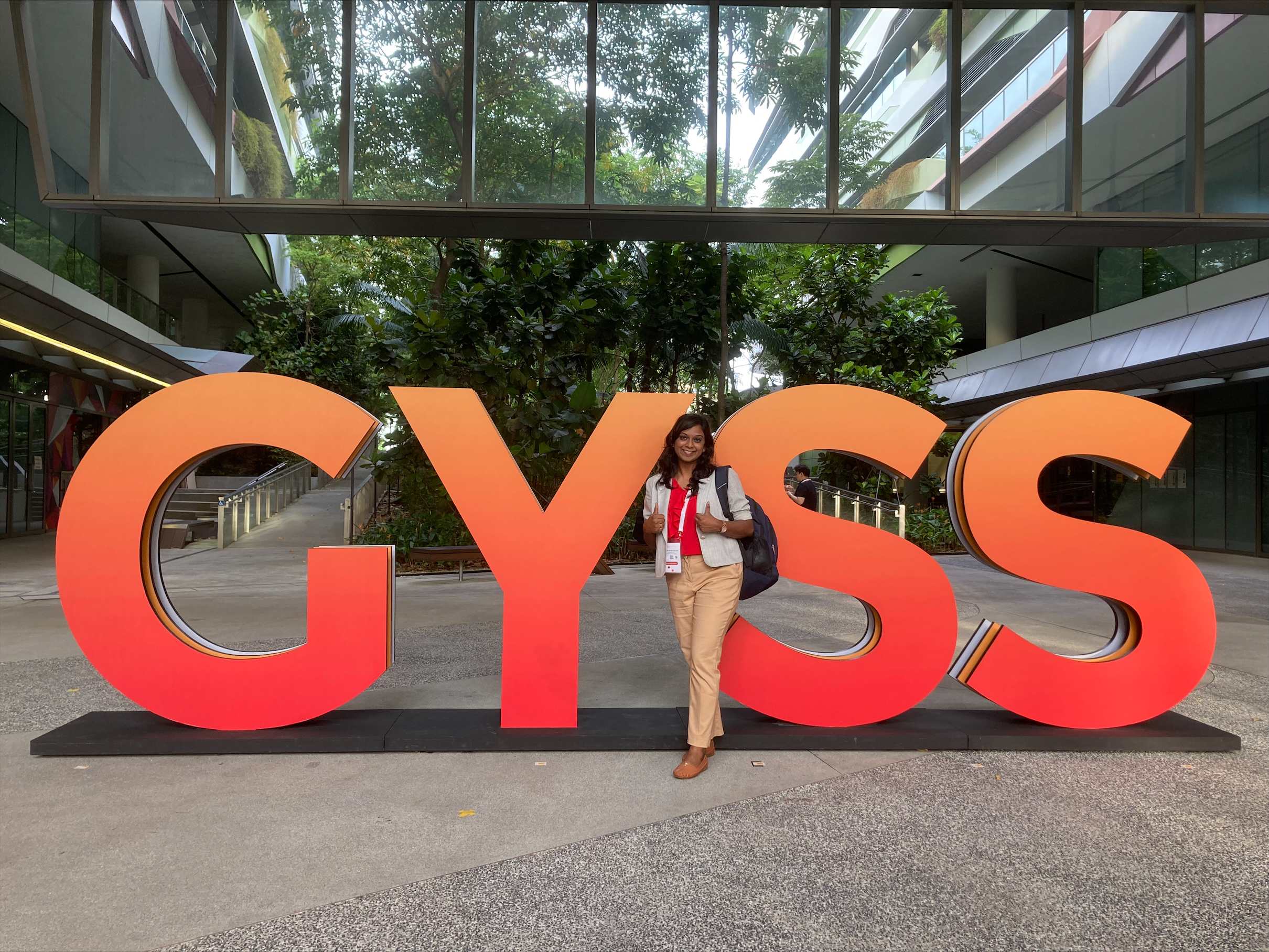 Ts. Dr. Reena Sri Selvarajan, a young engineering scientist with excellent performance and a strong commitment towards her research field, was chosen and invited to represent Malaysia for the 11th edition of the Global Young Scientist Summit (GYSS) in Singapore.
The 33-year-old's core research expertise includes biosensors, bioelectronics, 2D nanomaterials, graphene-based field-effect transistors (FETs), biofunctionalization, and medical devices.
At GYSS 2023, she had the opportunity to engage with the top minds from around the world and build a global research network by engaging with like-minded fellows and renowned scientists worldwide.
"The participants were from all five continents, mainly from top research institutes such as the University of Cambridge, University College London, Kyoto University, ETH AI Center and so on. Attending the event widened my perspectives and gave me a direction to level up my A-game in both academic and research fields," she said adamantly.
She narrated that she was over the moon when she listened to the plenary lecture by the 2010 Nobel Prize laureate in Physics Professor Andre Geim on his discovery of the 'world's wonder material' – graphene, as she used graphene nanomaterial to develop field-effect transistor-based biosensors for the artificial kidney and prototype of Coronavirus detector.
"Hearing from the inventor himself inspired me to explore its potential for developing sustainable solutions further," said Dr. Reena.
After being inspired to promote the United Nation's Sustainable Development Goals (SDGs), she continues nurturing young minds via Project Einstein. As part of the project, students enrolled in APU's Communication Engineering Principles module are taught to confidently present science and innovation topics.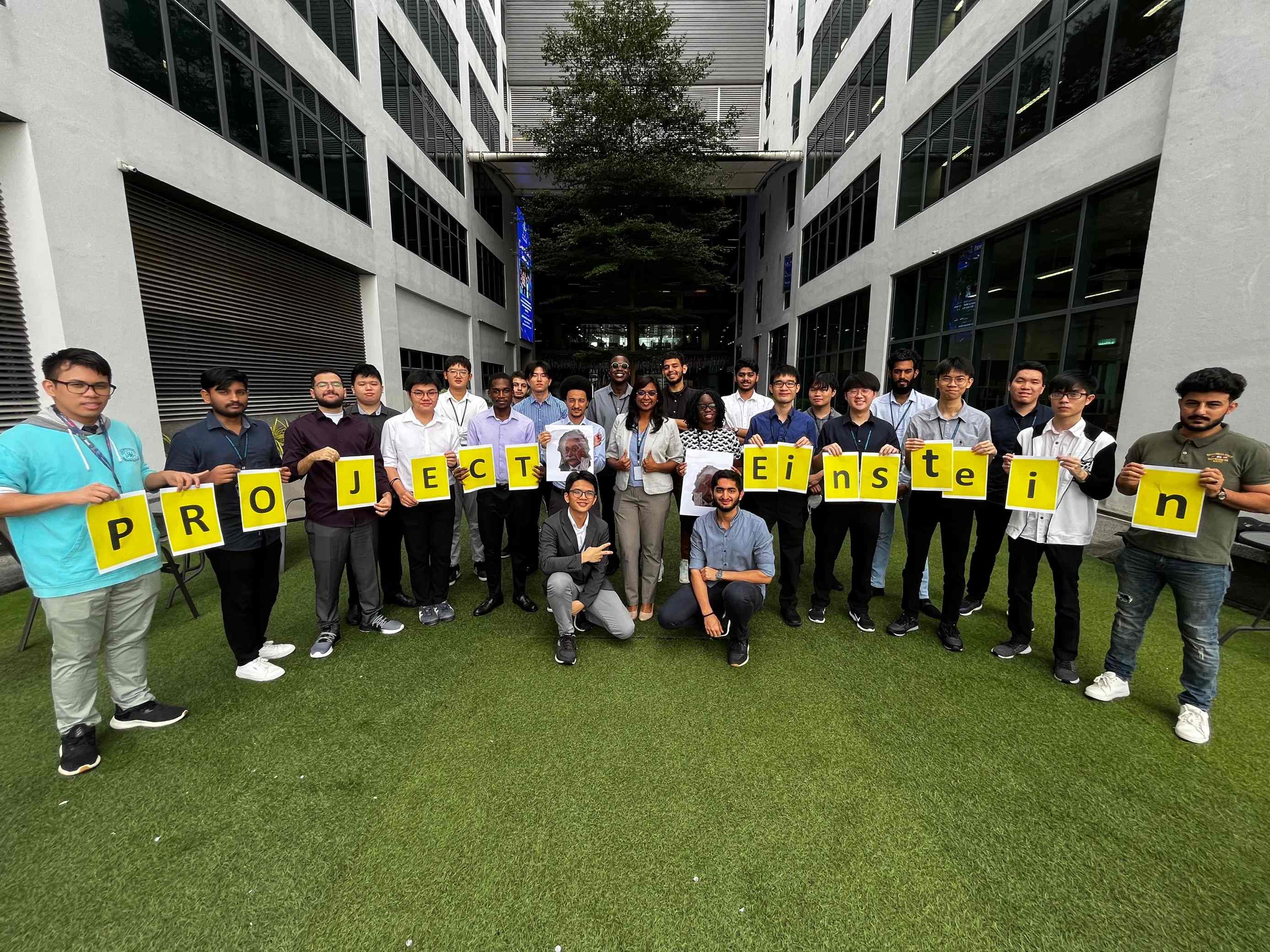 Ts. Dr. Reena Sri Selvarajan (centre) innovated her teaching and learning techniques, by indirectly implementing SDGs goals in the curriculum via Project Einstein, a weekly sharing session at APU where students of the Communication Engineering Principles module learn to pitch a science and innovation topic.
The valuable input from the interaction with multidisciplinary researchers at GYSS gave birth to many ideas that Dr. Reena will internalise for developing final year projects (FYP) and group design projects (GDP) titles for her students.
"Finally, my visit to Singapore's University of Technology and Design's 5G Drone Technology Lab has fostered collaboration where APU students will be part of their internship programme," Dr. Reena concluded by counting the bountiful outcomes of this visit.