Meet Our Intern!
By EasyUni Staff | Last modified 11 Nov 2017
Share this page with friends

How did you find out about this internship and what compelled you into pursuing it?
It is a quite tough to find an internship abroad, without any help. Luckily there is a Dutch organisation based here in Malaysia, which helps Dutch students with their search for an internship. This company has ties with EasyUni, which is how I ended up here. I wanted to go abroad rather than stay in the Netherlands, because I believe that living abroad brings a lot of personal growth along, and I just love travelling.
What have been your best and worst moments in Malaysia?
My best moment? That is a pretty tough one, because there were so many awesome moments. I guess one of the better ones was in Langkawi, when I was relaxing on the beach with some friends, enjoying some cheap beer. Feeling the sun on my skin, surrounded by beautiful scenery and with good company, add that together and all you will feel is pure happiness.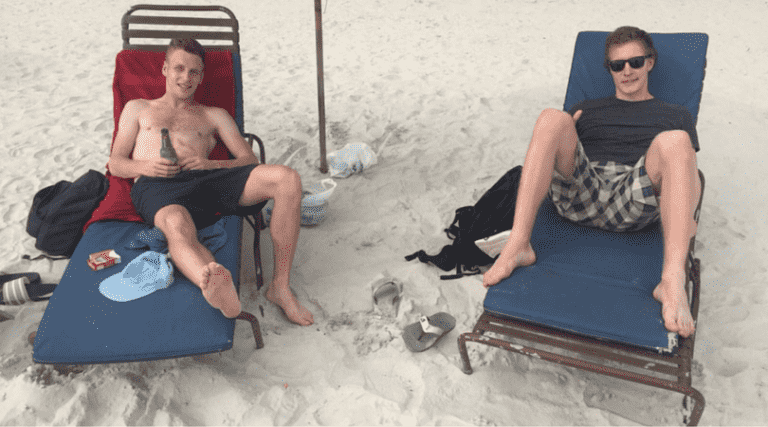 I haven't had bad moments, luckily; I was once pretty stressed out though. I had to catch a flight to Penang once but because of heavy rain the KLIA was temporarily not operating, so I decided to grab an Uber. I was already late, and all the traffic didn't help to get me at the airport in time. My phone was almost dead, so I had to charge it in the back of the Uber with my laptop. When I finally arrived, obviously way too late, I found out that the flight was delayed by 30 minutes and that therefore I could just catch it. That was a bit too close for my liking.
According to you, how different is the lifestyle in Malaysia as compared to the Netherlands?
Things are fairly different between those two, especially when it comes to food. Malaysians seem to have a slight obsession with food, because they know everything about it and could talk about it for hours. While in the Netherlands, we don't really talk about it- we rather talk about the weather.
Also, in the Netherlands we are big fans of order and structure, while things here in Malaysia strike me as more chaotic.
Could you tell us a little about university and student life in The Netherlands?
I am a big fan of the student life in the Netherlands- students often live somewhere in an apartment together with some other students. You take a bike to pretty much everywhere you want to go, because our cities are not so big and everything is nearby. The teachers are good and the quality of the education is one of the highest in Europe. There are a lot of people from different countries coming to the Netherlands to study, and we welcome them all.
How was your internship experience here at EasyUni been so far?
It has been a great experience, there are a lot of people with different nationalities working for EasyUni, thus on the work floor it is very multicultural. Also, the average age at EasyUni is really low, which makes it a lot easier to connect with colleagues. They welcomed me with open arms and gave me tips about what food to try, which places to see etcetera.
What skills have you gained through your internship?
I have learned to set-up Google and Facebook campaigns, how to create landing pages, do keyword research and I also learned a ton about Search Engine Optimization (SEO). I am sure that skills like these are going to prove themselves worthy during my career.
Do you have a favourite moment throughout the period of your internship?
My favourite moment was definitely when the Chief Technology Officer (CTO) asked me to work on a SEO project. I got the opportunity to read and learn a lot about SEO, which made me discover how interesting SEO actually is. And it also felt like this was my opportunity to perform well and contribute to EasyUni.
How did you feel about working with the EasyUni team?
I have had a blast working together with the EasyUni team. The team is relatively young, dynamic and is very welcoming. I am sure it is going to be tough to say my goodbyes to the team. I have had simple student jobs in the past, but I never worked with a team in an office. I am very glad that I had the opportunity to work together with this team for my first work experience, they surely set the bar high for my next team.
Do you have any regrets, leaving Malaysia?
I regret that I didn't travel more on my weekends; AirAsia offers many opportunities to explore Southeast Asia. Unfortunately, I don't have unlimited money and could not afford to take every opportunity. Thus I regret that I didn't save up more money before coming to Malaysia, so that I could have gone exploring Asia every weekend.
Would you recommend coming to Malaysia to any of your friends? Why or why not?
Without a doubt. Malaysia has been an awesome place to live for 3 months and I am sure all my friends would enjoy it here as well. The country has so much to offer, especially to Europeans. In Europe we don't have jungles to explore or a real Nasi Lemak to eat: reasons enough to go and enjoy Malaysia's beauty.
Would you recommend interning at EasyUni to any of your friends? Why or why not?
Yes, I have had an awesome time at EasyUni and I am sure all my friends would enjoy themselves here as well. It seems like yesterday that I walked into the office for the first time- my time here went by so fast, too fast. The team is great and it feels good to work for a company whose goal is to help students. It's a fulfilling job.